Image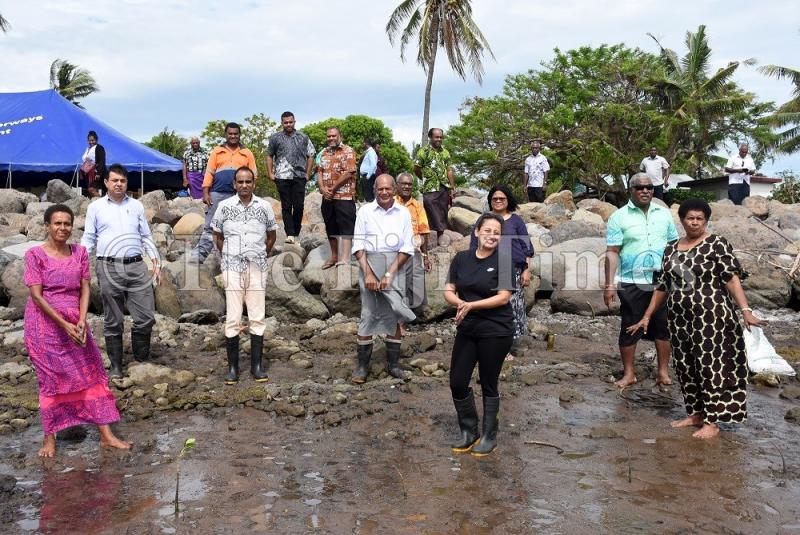 Permanent Secretary for Waterways and Environment Joshua Wycliffe (3rd from left) with ministry staffand villagers pose for a photo after planting mangroves along the coastline at Namoli Village in Lautoka. Picture: REINAL CHAND
Fiji Times (Suva, Fiji) FIJI's Ridge to Reef (R2R) program has provided a hybrid protection system that protects coastlines using both natural and man-made infrastructure, says Ministry of Waterways and Environment permanent secretary Joshua Wycliffe.
While launching the Namoli Nature-Based Solution Project in Lautoka yesterday, he explained that the hybrid model would soon be introduced into other coastal communities.
Mr Wycliffe said in a situation where resources were scarce, it was important to implement solutions that were both cost effective and permanent.
"This particular issue asks and demands that we have to build a hybrid solution which is cost effective and is long-term as well," he said.
"So in this instance, what we have thought of is to provide a hybrid infrastructure which is both grey and green.
"This grey and green infrastructure consists of boulders built along the coastline which is the secondary line of defence.
"We also rely on nature which is our primary line of defence and this is also a long-term solution.
"We are working on a hybrid model where we have staff and teams coming together.
"So the Department of Environment under its Ridge to Reef Program, today is able to afford this primary line of defence. If we hadn't taken this approach and this R2R initiative, we probably would not be here."
He added that the coastal protection work for Namoli was done with a funding of $700,525.88 and covered the community's entire coastline.
He said apart from the 440-metre sea wall, a total of five rows of mangroves were also planted to ensure maximum protection.
Original publication: https://www.fijitimes.com/hybrid-solution-way-to-go/